Fagins Antiques
Closing Down Architectural Auction (Un-reserved)
In the Spring of 2019 we ventured down towards Exeter in a little place called Hele, where Fagins Antiques was a well established and well known Antiques dealership. You could'nt have imagined the amount of stock that was in every nook and cranny in the building and was one of the reasons why not only did this sale turn out to be one of our best, but it also represented another challenge with almost 3,000 lots that had to be booked in! This was by far the largest undertaking our architectural team had ever faced and was a challenge that was met head on by Luke and his team.
The auction started on Thursday 11th April and included various pieces of artwork and paintings, shelves of crockery, books and various antiques and vintage items. The auction then moved onto ornate furniture which turned out to be highly desirable as the crowds gathered on that first day of selling. One of the standouts from the first day at auction was lot 867 a 'plank top oak refectory table with cleated ends, raised on turned stretchered supports' and fetched an incredible £2,600 (est £1,500-£2,000). Lot 927 also was worked well in the room with a 'Large pair of early 20th Century brass framed display cases' and achieved a hammer price of £800 (est £300-£500). Another lot that had a lot of interest in it was Lot 435 a 'Very large victoria oak archway' which had real charm and a lot of character to it and made £600 from an esitmate of £200-£400.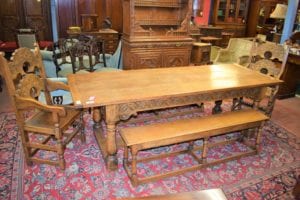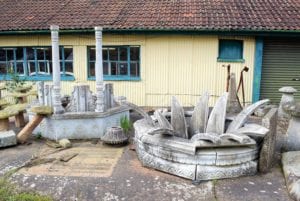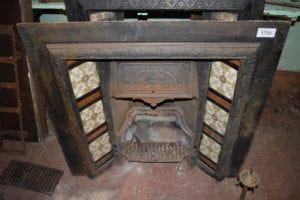 What we thought was a busy day on the Thursday turned out to be just relatively busy in comparison to the following two days on the Friday and the Saturday, with a bumper turnout on those days. Day 2 kicked off outside on the bays of rafters, reclaimed beams and wooden doors from Lot 1001. One of the early lots that surprised many in the room was Lot 1087 'Six pallets of mixed mainly edging bricks' which made an impressive £190 (est £50-£80) and as you will see from the image, these were not filled pallets of edging bricks etc. either. The main lot from day 2 of the auction was Lot 1183 'Large quantity of wooden columns' and made an astounding £900 (est £80-£120). Other notable lots from this second day of auctioneering included a 'Fifteen matching spiked top railing sections' £420 (est £200-£400), Lot 1305 'Pair of very large Gothic church window frames with arched top' £400 (est £200-£400) and even Lot 1725 'Pair of arched top doors' £380 (est £80-£120). As you can start to see from these examples of some of the lots that did well, the prices being achieved were realising e
ither their top estimates or bang on the top estimate and resulted in a fantastic day at auction and there was good banter between auctioneers Luke, Wayne and Tom throughout!
The final day of the auction was the busiest and after the first few days of auctioneering and being kept well fed by 'The Devon Chilli Man' those in attendance still had their pockets filled with money to spend big after 2,000 lots had been sold already. The final 1,000 lots started at 9:30am and one of the earliest lots to really set alight was Lot 2061′Pair of matching windows each with eight seperate window openings' and fetched a respectable £320 (est £30-£50) and was another good indication to how the day was going. A few other lots that caught the eye were Lot 2254 'Beautiful marble rotunda/well folly' £2,300 (est £400-£600), Lot 2567 'Very large pine open bookcase' £1,500 (est £100-£200), Lot 2593 'Very large pine display unit with open shelving over fifty small chemist drawers' £1,500 (est £200-£300) as well as Lot 2916 'Large painted apothacary cabinet' £1,100 (est £250-£350).
In terms of big money tickets, this auction had good value across the board throughout all three days and the sale was brilliant from start to finish. Auctioneer Luke Duddy commented on the auction stating "there was a lot to get done in preperation for this auction but seeing the amount of people who turned up and being able to showcase the stock on behalf of Chris and achieve the total we did makes all the hard work all the more satisfying". Owner of Fagins Antiques Chris Strong had mixed emotions after the sale, on the one hand was sad to see his business from the past 33 years gone in three days but was quoted saying "Wellers were fantastic, their professional team came in and lotted up and made me tons of money for my retirement! Special thanks to Luke and his team."
If you wish to contact us please complete the form below: