Closing Down Retirement Auction on Behalf of Robert Mills Ltd, Bristol, UK
Wellers are excited to announce our first auction of 2020 which is being held at Robert Mills Architectural Antiques on Saturday 28th March. The auction will start at 9:00am and will continue without any breaks until the last lot is sold. This will be a closing down retirement sale and as such will be un-reserved.
There will roughly be 1,200 lots for bidders to get their teeth stuck into on the day and this auction has many different types of items, so there should be something for everyone! You can bid online using any of the following websites: BidSpotter.com, iBidder.com and The-Saleroom.com.
Viewing for this auction is available from Saturday 21st March 10:00am to 4:00pm and again from Monday 23rd March to Friday 27th March from 9:00am to 5:00pm. You will also be able to view the lots on the day itself and can arrive on site anywhen from 8:00am on Saturday 28th March. As this is an un-reserved closing down retirement auction all of this stock must go! We are hoping there will be a good atmosphere in the room and will be a fun day of auctioneering.
The type of lots you can expect throughout the day include architectural antiques such as decorative stained glass windows, many different types of church effects including pullpits, rostrums, church pews and seats, wall panels. If you are interested in furniture, Robert Mills Architectural Antiques has plenty on offer for you. There are various different oak and pine tables, dressers, over-mantles, scratch built loungers, dining tables and chairs and tons more!
In many of the nooks of this building there are various quality collectables as well as rowing boats, light fixtures and fittings. Fireplaces and surrounds are scattered throughout this one day auction and are made of various different materials ranging from oak, pine, marble and concrete.
One of the standout lots in this auction is a highly carved antique Gothic English oak linenfold panelled Victorian room. This decorative panelled room measures 8 meters in length (315″) X 5.5 meters wide (216″). Panelling 2.2mm high (87″). Fire surround 2.7 meters wide (106″) X 3.4 meters high (134″).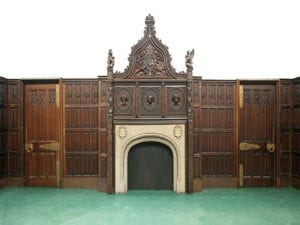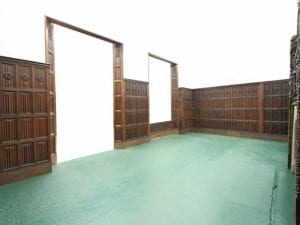 This panelled room has been removed from the Hampsfield House which is situated between Lindale and Grange-Over-Sands in the southern Lake District, which was built in 1880-1882 for Sir John Hibbert KCB.
John Hibbert served as P.S. to the Local Government Board, under-secretaries to the Home Office, Financial Secretary in Gladstone's Cabinet (1884 to June 1885 and June 1892 to March 1894), and secretary to the Admiralty (Feb to July 1985). He was knighted in 1893.
At the top is an English Royal Crown, denoted by four crosses patee alternating with fleurs-de-lys and surmounted with another cross patee. It would have been worn by the king of England and the king's heir.
The heraldic shield is the English Royal Coat of Arms, used between 1405 and 1603; the same period in which Sir John's ancestral home, Urmston Grange, was built. The three passant lions on the shield quarters symbolise the English royal family and the fleurs-de-lys symbolise the French royal family. Around the heraldic shield is the symbol for the order of the Grater, the English order of knighthood. Set up in 1348 by Edward III and considered the highest British honour. There is also the inscription 'honi soit qui may y pense', meaning 'shamed by the person who thinks evil of it'. It became the motto of the Order of the Garter when, supposedly, in the fourteenth century, Edward was dancing with the Countess of Salisbury and her garter fell off. In response to the snickers of those watching, Edward said "honi soit qui mal y pense" and tied the garter around his own leg! This device is supported between a lion rampant and dragon rampant.
It is additionally decorated with background carvings of Tudor roses. The Tudor rose was the symbol of the House of Tudor which began with the end of the War of the Roses in 1487. The war was between the Houses of York, with its white rose, and Lancaster, with its red rose. The conclusion of the war resulted in the joining of the two Houses and, so, the two roses in the white and red Tudor rose.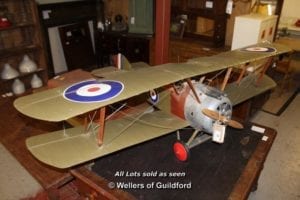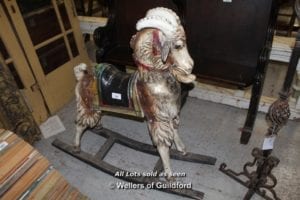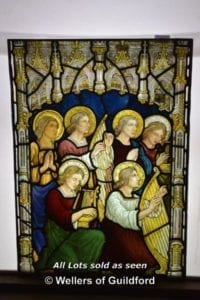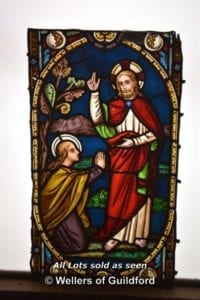 Condition reports are available on request, please contact Luke Duddy on 07966 437099 [email protected], and will be completed on Friday 27th March. All purchases must be paid for and cleared by Tuesday 14th April, deliveries can be available and made by yourself or arranged yourself, and there may be the opportunity that Robert Mills Ltd can provide deliveries however please contact them directly to confirm this.
We look forward to seeing you on what will be a busy day of auctioneering!
Auction Address: Narroways Road, Eastville, Bristol, BS2 9XB
**NOTE: If you are interested in having an architectural auction, whether this is for closing down the business, stock clearance or any other reason, then please contact Luke Duddy (contact details above) for more information.