Robert Mills
Closing Down Architectural Auction (Un-reserved)
The first architectural auction of 2020 proved to be different in so many ways to any previous architectural auctions that we have ever held. Colin Scull, the owner of Robert Mills Architectural Ltd since the retirement of his predecessor Rob Mills in 2003, has been a part of the business since 1987 when he joined as a restorer of stained glass windows. The company based in Bristol was focussed on the restoration of decorative and ecclesiastical reclaimed materials from the 19th and early 20th Centuary.
In April 2019, Colin attended the Fagin's auction in Exeter and following the success of this sale decided to instruct Wellers to conduct his own retirement sale the following Spring. The date of the one day sale was initially fixed for Saturday 28th March 2020, but the lockdown due to the outbreak of COVID-19 several days before this date threw a spanner into the works and the sale was postponed whilst some thought was given as to how best to run the live auction, and most importantly when; Colin needed to vacate his premises in the summer and was worried about the possibility of further restrictions coming into force after the end of the first lockdown; at the same time we all felt that the longer we waited the greater would be the erosion of confidence in the market place as cash became tight for both the trade and end users.
After careful thought the decision was made to go ahead just before the end of the first lockdown on 15th April but to split the sale across two days to give bidders more time to bid as well as to allow for the possibility of pulling the sale after the first day if it proved to be disappointing. Several days before the sale there were 140 bidders registered on-line and we had received requests for over 450 condition reports. However just before the sale, bidders increased to 1,110 registered for the sale, a record for an auction of this type for Wellers and at that point we felt very confident that despite the turbulant market, that this auction had a real chance of being a success.
Some of the lots that did exceptionally well on the day included lot 750 a 'Bronze Entryway with matching bronze doors' which saw a crazy amount of bids amass a hammer price of £10,400. Lot 1178 was another popular lot and was a trademark of what Robert Mills offered due to their stain glass window refurbishment section of their business, the lot was a 'Three Light windows depicting the crucifixion' and fetched £3,500 along with lot 845 'Decorative stained glass window depicting Jesus' life' £2,000. Other noteable lots included lot 1182 which was a 'Pair of Oak Arch Top Doors' that realised a hammer price of £2,700, lot 1185 'Ebonised & Gilded Strawberry Hill Gothic sideboard' £2,700 and also lot 463 which comprised of 'Approximately 75 Church Chairs' that made a staggering £1,750.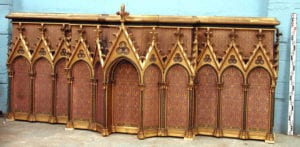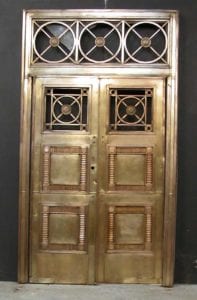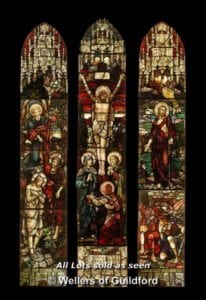 The two days at auction didn't stop there and we had a large amount of registered bidder online throughout both busy days of selling. Lot 1192 an 'Italian Gilt Sacristy Dresser' made £1,750 whilst in lot 1181 'Two Oak Pew Fronts' fetched £1,000 at auction. There were other lots that also made reasonable sums at auction with lots 961 'Gymnasium Wall Bars' realising a value of £880 and lot 1107 which included a 'Polychromed Gothic arcaded oak Reredos' making £2,600. These were just a few of some of the many lots that passed under the hammer during a busy lockdown online only auction.
Veteran auctioneers Luke Duddy and Rob Snelgar kept the audience engaged with their lively banter which, given the fact that there was nobody present, was in itself a tribute to their auctioning skills. A combination of great lots, excellent auctioneering skills and the sheer boredom of being locked indoors for nearly three weeks all undoubtedly contributed to the success of the unreserved sale which raised in excess of £200K on the hammer. This was twice the amount expected and should give Colin's retirement plans a good lift.
Colin Skull, owner of Robert Mills stated on 15th May that "We chose Wellers because they have conducted many architectural auctions over the years, of which many I have attended and always found the firm to be highly proficient".
To view the full auction catalogue, please click the following link: https://www.the-saleroom.com/en-gb/auction-catalogues/wellersfineart/catalogue-id-weller10130
If you wish to contact us please complete the form below: