On Saturday 1st May, we have an incredible auction in store for you, with around 100 lots of antiques to start the day followed by between 300 to 500 lots of memorabilia which will mainly include autographs and signed photos of all your favourite sports men and women as well as actors signatures from all of your favourite films and TV shows!
As an example of what you can pick-up from this auction in May you will see that we have signatures from the popular movie Willy Wonka & the Chocolate Factory which is one lot in particular that you may want to keep an eye on. Some other notable lots will include a signed and framed signature from none other than Andy Serkis, the voice behind the animated 'Gollum' from the Lord of the Rings' Trilogy as well as 'The Hobbit'. If you are more interested in your zombie thrillers, you will also be able to grab yourself a 'Shaun of the Dead' framed photograph which includes a signature by the brilliant Simon Pegg, "How's That For A Slice Of Fried Gold?"!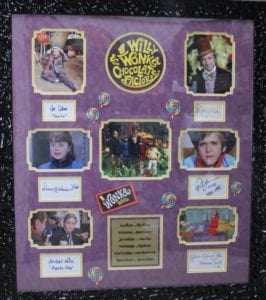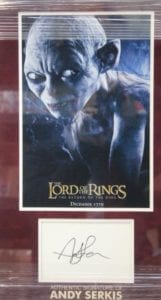 Willy Wonka & The Chocolate Factory (1971, Cast Signed), Andy Serkis, The Lord of the Rigns (Return of the King. Actor Signed), Shaun of the Dead (Simon Pegg Signature)
If you are interested in your sporting memorabilia, there will be a whole host of autographs from all of your favourite stars, some of which include the Brazilian Ronaldo which was acquired during the World Cup of 2002. There is also an amazing signed photograph of none other than the mighty Muhammad Ali, this is one of the rare items that will be in this auction and one of the lots you should definitely add to your watchlist. If you are supporter of Chelsea FC then a framed and signed photographs of these club players may make you want to place a bid. The lot includes signatures from Chelsea FC legends such as Serbian international Branislav Ivanović who played 261 games for Chelsea, Gianfranco Zola also features with 311 appearances for Chelsea scoring 80 goals for the club, and in 2003 was voted as Chelseas greatest ever player. Petr Čech who played 494 times for "The Pensioners" also features alongside current player César Azpilicueta who has worn the blue shirt 414 times, scoring 14 goals.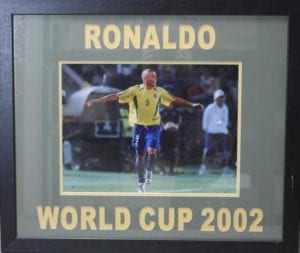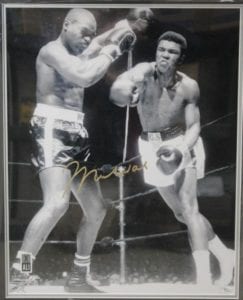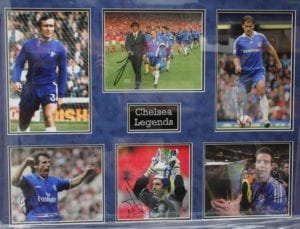 Ronaldo Signed Picture (2002 World Cup), Muhammad Ali Signed Picture (Boxing Legend), Chelsea FC Signed Photos (6 Club Players)
Other lots include music sensation Justin Timberlake, the American singer, songwriter, actor, and record producer. He has produced top hit singles that include "Cry Me a River", '"Rock Your Body", "SexyBack", "My Love", and "What Goes Around… Comes Around" to name just a few, which we are sure you will have heard of. Another movie, and another two signatures in this framed image by both Angelina Jolie and Colin Farrell from the iconic movie "Alexander" the 2004 epic historical drama which is based on the life of the Ancient Macedonian general and king 'Alexander the Great' directed by Oliver Stone. If you are into your Marvel fanfare movies then we will have this rather nice Charlie Cox signed photograph from the movie Daredevil and personally we think this would look great in any mancave!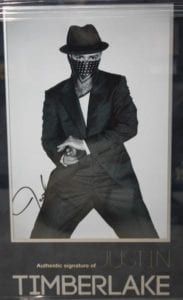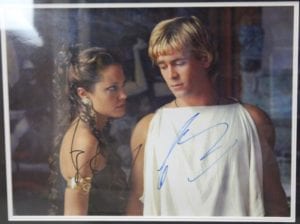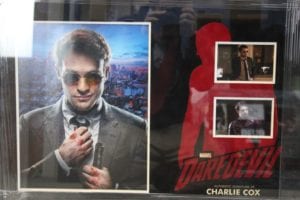 Justin Timberlake (Signed Picture), Angelina Jolie & Colin Farrell ("Alexander" Signed Photo), Charlie Fox ("Daredevil" Signed Photo)
If you would like to bid in this auction you just have to create an account, if you haven't bid with us before and you can view the catalogue by clicking the following link: https://wellersauctions.com/m/view-auctions/info/id/925/
We hope this has given you a gist of what is to come and what type of lots are going to be uploaded by Friday 9th April, which is when we are hoping to get everything online by. If you want a condition report on any of the lots in this auction please email [email protected] before 7:00am Saturday 1st May, which will give us enough time to send you any additional images and information about these lots before the auction starts at 10:00am.
All of the lots in this auction will have at least one Certificate of Authentication (CoA), so you know that you can bid with confidence in this auction and we hope you can join us for this auction as we are sure it will be an exciting day of auctioneering, so stay tuned on our website or sign up to our e-newsletter for all the latest information about this auction by clicking HERE.